That old saying "kill two birds with one stone?" When it comes to designing a renovation or building an addition, nothing could be more applicable. You're too busy to invest more time and money than necessary in your remodel, so make things easier and hire one firm to do it all.
Home Advisor estimates the average cost of a house to be between $149,000 and $429,000. Over the years, prices for materials has ebbed and flowed. Tastes and styles have evolved and sometimes looked back to the past for inspiration. The one thing that has been constant is the company's deep understanding of the actual time and cost to build an addition or renovate a home.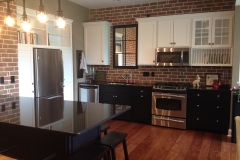 When it's your time to renovate, there's one thing in your builder's toolbox that you should insist upon: Listening skills.
To ensure that design is always connected directly to the potential of your existing home or the imagination of the homeowner, as opposed to the whimsy of a separate entity, engaging a builder with a highly qualified, internal design team is key to the castle.
Design and build services wrapped in one saves time and money. Be sure your firm is a partner with you and that your key project leader is educated in construction and interior design. Your professional partner must see the possibilities in a house.  Must understand structure and flow.
It's trickier to renovate than it is to build new and at the same time achieve visual harmony and functionality. This is why having the builder design the project makes so much sense. Rather than having a separate design firm or architect, a cast of characters from the bank to inspectors to municipal permit folks and all the million other critical details of a major renovation, a single project manager from Action Builders handles it all. The byproduct? A seamless experience for the homeowner and significant cost savings.
Most sources cite that architectural fees will be 8-15% of the total cost of the project. Some charge by the square foot and others have minimum service charges. Architects are a steep investment. In the Pittsburgh region, building and designing through reputable companies like Action Builders can save up to 50%. When an architectural draftsman and an engineer who stamps the drawings are intimately involved, the outcomes are beautiful, structurally sound and very much in alignment with a homeowners' ideas.
Be sure to rigorously interview your builder and ask for a portfolio of work. Be sure they have a great eye for space planning and layout of an addition to integrate it into the existing space. From a construction standpoint, ensure the company has deep experience. Be sure they can design spaces with flush beams, no posts, removing load bearing walls-anything you can imagine!
The experience and efficient process also add up to economy of time. Partnering with the right firm means can reduce construction time because you are measuring twice and cutting once, so to speak. There's a flexibility with a smaller, qualified firm who will be giving you uninterrupted attention to detail.
Ready to dream about your home renovation? Email our Chief Dreamer (OK, designer and project manager,) Elizabeth Sable at [email protected]