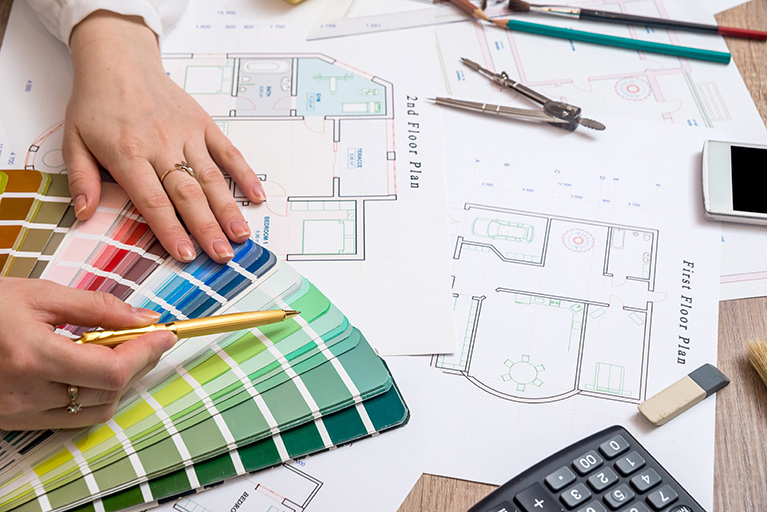 The best part of a home remodel is the end result. You get to watch the house you love transform into the home of your dream. However, the process can be filled with ups and downs.
You begin with excitement, an eagerness to see the project start. But that excitement can quickly turn into stress with the sheer overwhelming amount of work that needs to be completed. But that feeling can transform back into excitement as you see major milestones completed. And without the proper preparation, your emotions will continue to fluctuate throughout the process.
But you don't need to be intimidated by the home remodeling process. By thinking ahead and following a few simple steps, you can have a great renovation experience.
1. Have a clear understanding of the process.
Just because you are utilizing professional help does not mean you should feel confused. The design-build process relies heavily on your input. You therefore need to have a clear understanding of how the project will proceed and the steps that need to be taken to see your dream home renovation come to life.
Feel free to ask your design-build team to explain the process. If your design-builder can't explain it, search until you find a design-builder who can.
2. Know what you want.
No design-build contractor will understand the specific needs of your lifestyle the way you do. You live in your home daily and know what it lacks and what you want it to become. Often, a design-builder will have the solutions to the problem you can't seem to fix, but you need to know what you want in order to effectively communicate your needs.
This can be especially important for homeowners who live in historic areas, such as Sewickley. It's important to know what issues your home may have, such as old, leaky plumbing, lack of insulation, foundational issues, or a variety of other problems. These issues are not limited to historic homes only. Consider what historic element of your home you want to maintain and highlight, such as wood floors, trim, or fireplace mantels.
Knowing what is most important to your renovation is a major key to having a successful renovation.
3. Be able to communicate what you want.
You are more likely to get the renovation you want if you can clearly communicate your vision to your design team. The design-build process is a collaborative effort, and it tends to see greater client satisfaction than other construction routes. This is because you as a homeowner get to express your exact thoughts. It therefore relies heavily on your enthusiasm for the project and is based on your relationship with your design-build contractor.
The scope of the project can suffer if all team members on not on the same page.
4. Have your financing in order.
The most important part of your renovation is the financing. Without having your ducks in a row, you can end up stalling your renovation or end with an incomplete project that causes more harm than good.
A whole-home remodel or home addition can add incredible value to your home. And financing can come from a variety of different avenues. Make sure you have your financing in order, as payment will typically be required after major project milestones in order to keep the project moving forward.
5. Refuse the pressure to rush.
Never rush the planning and preparation phase. Each point already mentioned falls into this category. First, know what your biggest challenges are. Then, look to a good design-builder to help you methodically plan the overall design of your renovation to solve these problems. Don't rush yourself to be done by a certain time frame such as a holiday.
A home renovation is a big investment. Move systematically to see it done right so you won't be disappointed in the outcome.
6. Be able to make choices in a timely manner.
While you should never feel the pressure to rush in the planning phase of your project, you want the entire home addition or home renovation process to move efficiently once design and construction have begun.
Whole-home remodels can sometimes require you to move into a temporary living situation. This can cost you in hotel bills or the comfort of living in your own home if you stay with friends or family. Therefore, being able to make quick decisions as needed will help move your project along.
Not being prepared for questions that may arise can make the process more difficult on your design team and can ultimately halt the project.
7. When in doubt, trust the professionals.
Design-build contractors have been through the design process before, and they are the experts when it comes to design and construction. They can think outside of the box and come up with ideas you might not have been able to think of yourself, so when you're unsure of something, trust your professional.
When you do live in a historic home, professional advice remains one of your biggest assets. The common problems associated with historic homes can more easily be solved by professionals who have combated these issues before. Trust what your professional says. Their goal is to preserve the integrity of your home while making sure your project is structurally sound and won't give you problems in the future.
Seek out a design-build contractor whose reviews indicate win-win solutions.
A Design-Build Contractor to Make Your Renovation a Success
Step from frustrated living into being a confident homeowner with the right design-build contractor. We know the design process can seem intimidating, but we are prepared to answer all of your questions and work hard to provide accurate cost estimates for your project.
See our design-build process to see how we can help transform your home through a smooth and collaborative process.