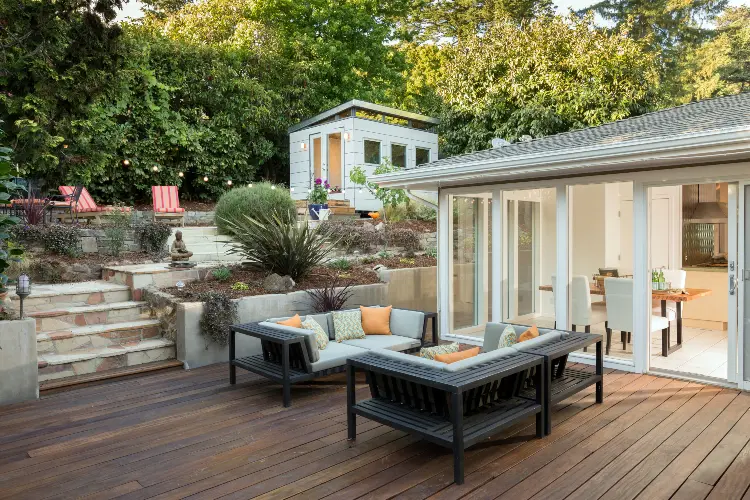 As the snow melts and flowers bloom, you might be thinking of more ways to spend time in the spring sunshine.
One of the best places to enjoy the beautiful weather is in your own backyard. However, your current living area may prevent you from enjoying all the benefits that an inviting outdoor living space has to offer.
Remodeling or updating your outdoor living area with Action Builders is an excellent way for your family to enjoy the outdoors without leaving the comfort of your home.
Problems You May Have with Your Current Outdoor Living Space
Crowded Living Space
There can be lots of issues with your home's space. Is the square footage in your house tight? Has your family outgrown the current rooms in your home? Do you wish you had an office space while working from home? Or do your kids have little to no area to play?
No Space to Entertain Guests
If you have a small, dysfunctional kitchen with limited space for storage, meal preparation, and cooking, you might find it difficult to entertain guests.
Erosion
Erosion occurs when water washes away soil and leaves bare patches on your property. It can cause unsightly damage to your landscape (grass, dirt, and flowers) as well as your hardscape (stone, bricks, and concrete).
Poor Drainage
While erosion can cause landscape and hardscape damage, drainage issues can severely damage the foundation of your home. Poor drainage also creates pools of water on your lawn, sidewalks, or pavers, which can result in an unattractive, muddy backyard.
Lack of Privacy
If your property is wide open and offers minimal privacy, you might not feel relaxed and at ease when you're enjoying your backyard.
Inadequate Accessibility
If your outdoor living space isn't accessible to elderly or disabled guests, you might experience difficulties accommodating your family, friends, and neighbors.
7 Benefits of Remodeling or Adding an Outdoor Living Space
Remodeling your current outdoor space or adding a new outdoor entertainment area is an excellent way to solve many of the frustrating problems you're currently experiencing with your home and backyard.
You'll also enjoy these seven excellent benefits of adding an attractive, inviting outdoor space to your home!
1. Expand Your Living Space
Transforming your backyard into an outdoor living room is a great way to add functional space to your home without changing your floor plan. You can use the area as a family space, play area for kids, an office, or a dining room.
Or, you might choose to add an outdoor living space during your indoor remodeling project as a creative way to add square footage to your home. You can seamlessly blend your indoor and outdoor rooms with a sliding glass wall or a bi-fold door.
2. Entertain Your Guests
An outdoor living space with a full-functioning kitchen is an excellent way to add room to entertain your family, friends, and neighbors.
Consider adding a barbecue grill, stovetop, farmhouse sink, refrigerator, stone countertops, and storage to cook and serve meals with ease.
Other fantastic upgrades to entertain guests in your outdoor entertainment venue include a flat-screen TV, fireplace, seating area, or firepit.
3. Prioritize Your Health
Upgrading or installing an outdoor living space is a wonderful investment in your health. Spending time outside unplugged from technology and connected to nature can significantly improve your memory and reduce stress levels.
Create places in your outdoor living area to enjoy the sunshine, flowers, and calming breezes, or consider adding a water feature to experience the soothing effects of flowing water.
4. Add Value to Your Home
An outdoor living area adds beauty, functionality, and space to your home, making your house attractive to future buyers.
If you can't add interior rooms to your house, an outdoor space is a great way to add square footage to your home while making it stand out against the competition.
5. Increase Accessibility
You should be able to entertain elderly family members and disabled guests with ease. It's also wise to consider updating your backyard's accessibility as you and your partner age.
Adding features like non-slip pavers, easy-to-use walkways, stepping stones, and comfortable seating is an excellent way to ensure that everyone in your family can enjoy your outdoor entertainment area for years to come.
6. Escape to an Outdoor Getaway
Who says you need to go on vacation to get away? A beautiful, refreshing outdoor living space with luxurious upgrades is an excellent way to relax from the comfort of your home.
Install a jacuzzi tub to experience the relaxing effects of the spa without leaving home. Or, consider adding a wine or cocktail bar to your outdoor escape to unwind after a long day. If you have room, you can install a pool for the whole family to enjoy.
7. Move the Office or Study Space Outside
Whether you're looking for a place for creative inspiration, hold video meetings, or read and study, an outdoor living space can work well as a home office.
More people are working from home than ever before. Students taking classes online have also increased. Families are now discovering an increased need for home office and study space to accommodate these needs. If you're pressed for room in your home, consider adding a comfortable seating area, table and chairs, plenty of shade, fragrant plants, heat lamps, or a fireplace to create a comfortable space to work and study.
Build the Backyard of Your Dreams with Action Builders
We understand that you want to stay in the home you love, but your current backyard prevents you from enjoying your house to its full potential.
With over 30 years in the industry, our reputable home remodeling team has helped hundreds of homeowners expand their space with beautiful, functional, and structurally-sound home additions. We follow the design-build construction process so that you can save time and money on your remodeling project.
We can transform your backyard into a comfortable, inviting outdoor living area to give you and your family more room to live, work, and play.
Learn more about how an outdoor living and entertainment space can enhance your home!