It can feel overwhelming to make the multitude of decisions required during a kitchen remodel. From new cabinetry's style, color, and hardware to the flow of your kitchen's functional space—each detail impacts the total design and impacts your overall satisfaction with your renovated space. 
Here are some of the most popular kitchen cabinet styles and colors that will ensure your kitchen remodel is on-trend. 
Kitchen Cabinet Door Trends
Traditional cabinet doors
These are the most formal cabinetry style, embellished with carved details. They have raised panels and may feature an arched design. They come in rich wood grains and can be antiqued or glazed.
Shaker cabinet doors
These are timeless and resemble a frame with the edges surrounding an inset panel. They deliver the most stylistically versatile cabinet design and work perfectly with a traditional or contemporary look.
Farmhouse cabinet doors
A more casual, comfortable version of traditional cabinets, these are made out of beadboard, shiplap, tin metal, or reclaimed wood. They are usually painted white, but charcoal gray and black are also popular. 
Modern cabinet doors
The least detailed of all cabinet door styles, these offer flat panels and little to no molding or trim, delivering a clean, sleek look for contemporary homes. 
Glass-ready cabinet doors
These popular cabinet doors make your kitchen feel bigger and brighter. They fit a glass panel instead of wood on their front so you can see all the colorful items inside your cabinet—creating visual interest in your kitchen. 
Heritage cabinet doors
These sophisticated cabinets give your kitchen a focal point with their raised panel in the center that presents an element of depth. 
Aspen cabinet doors
Another take on the Shaker style, these cabinets offer smooth, simple sophistication. They highlight skilled craftsmanship and come in a warm wood finish, complementing a variety of kitchen styles from rustic to transitional.
Cabinet door hardware shapes
A key element in customizing your new kitchen, your cabinetry hardware amplifies your kitchen's design. You can mix knobs and pulls on your cabinets, but keep the finish and style consistent.
Sleek modern pulls
The most popular hardware styles are modern pulls, whether tubular or square. They look stunning and come in a variety of finishes, so you get a flawless look. 
T-bar pulls
Sleek-looking, trendy T-bars give your cabinets a minimalist modern vibe. They come in polished nickel, champagne bronze, golden champagne, and stainless steel. 
Elongated pulls
Eight-inch-long bar pulls are popular and deliver a minimalist design element to your kitchen. 
Adjustable pulls
This advanced design has the ability to fit pre-existing holes while also offering a new look to your cabinets.
No hardware
For those with sleek lines on modern cabinets, no hardware is a modern option on-trend. Cutout handles can be added to cabinets, or invisible push latches can be inserted if you prefer.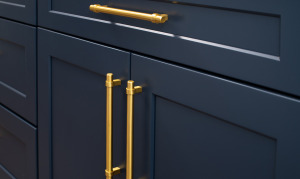 Cabinet door hardware colors
Copper pulls—This gorgeous trend works perfectly to accent your kitchen island. It looks fabulous in traditional or farmhouse-style kitchens.
Bronze pulls—Get a mid-century modern vibe with a bronze transitional bar handle that gives a decorative, updated touch to your kitchen cabinets.
Black pulls—Light-colored cabinets with black knobs or pulls modernize your cabinets in an instant. This hot trend can be accomplished with satin or matte black.
Brass pulls—Warm tones are gaining popularity in cabinet hardware. Satin brass makes your kitchen feel welcoming. Brass pulls look fabulous against white, black, or earthy green cabinets.
Floor-to-ceiling cabinetry
Utilize the space in your kitchen for ample storage of cookware, small appliances, and ingredients with floor-to-ceiling cabinetry. Large appliances (like your refrigerator, dishwasher, and oven) can even be incorporated into floor-to-ceiling cabinets for an integrated design. 
Cabinets that rise all the way to the ceiling give an impressive look to your kitchen and deliver a beautiful framing effect. Of course, it works best to use these generous cabinets by putting heavy items on the bottom and lighter ones at the top.
These are ideal for a variety of kitchens:
Modern homes benefit from the abundance of storage, keeping counter spaces clean and free from clutter, adding to the minimalist look.
Traditional and farmhouse homes integrate floor-to-ceiling cabinets perfectly, giving practical space to utilize what would otherwise be "dead space" between the top of your cabinets and your ceiling.
Urban studio apartments can benefit from floor-to-ceiling cabinets to make the most of the square footage and maximize their kitchen design.
Modern color trends for kitchen cabinets
Natural finishes—The rustic warmth of genuine wood makes families want to linger in this welcoming space.
Dark stained wood—This brings a soothing sense of comfort to your kitchen.
Stained glass panels—Add a touch of elegance to your kitchen with this creative touch.
Two-toned cabinets—These add personality to your kitchen with a pop of contrast. Black and white cabinets create a stunning look.
Bold colors—Cabinets can function as the perfect accent to your kitchen when you choose bold colors for them.
Get the Stunning Kitchen Remodel You've Been Dreaming Of 
You deserve to live in the home of your dreams with a beautiful, functional kitchen that is truly the heart of your home. 
At Action Builders, we've been designing, building, and transforming Pittsburgh kitchens for over 30 years. We listen to your dreams, guide you through design decisions, and take the stress out of the renovation process. 
Take a look at our featured projects and our kitchen gallery.