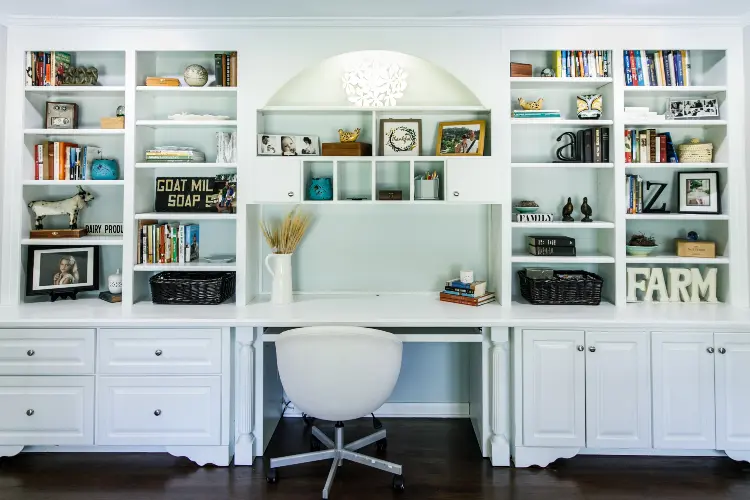 With nearly 45% of the population working from home and over 90% of children utilizing some form of distance learning, the demand for home office and desk spaces is higher than ever before.
Don't think you have space for a home office? You might be surprised. Fortunately, with Action Builders, dozens of innovative solutions are available to convert small areas of your home into functional office and desk spaces.
Here is a list of 7 surprising ways to add comfortable, productive office space to your home.
1. Closet Conversion
You can convert one of the closets in your home into a quiet, cozy office space with a little creativity—whether it's the awkwardly-shaped closet under the stairs or the unused coat closet in the hallway.
Here are some tips for transforming your closet into a functional office space:
Remove the closet door for added space. If you need privacy, consider adding a stylish barn door or curtain that can be moved easily.
Choose small, compact furniture and fixtures to maximize your office space. A standard-sized desk or table and floating shelves are great options.
Add a few outlets to your new home office to accommodate your electronics. A home remodeling contractor can help with this.
Consider mounting your computer monitor to the wall to increase desk space.
2. All-Purpose Family Nook
Often, your hallway has extra unused space that can be converted into an area that works well as storage, work, or study spaces. Kids can transform this space from a study and homeschooling desk into a place to do art and crafts.
You can also convert your stair landing into a cozy nook for children to read, work, or study.
3. Dormer Addition—Office or Kids Study Space
Children are working on schoolwork from home more than ever before. One of the best ways to give your child a quiet, distraction-free area to study is to place a desk in their bedroom.
Find a table or desk that is comfortable enough to accommodate your child's learning supplies—whether that is a computer, textbooks, or notebooks—and add it to an empty wall or corner in your child's room. Ensure that the learning space has good lighting, such as from natural light or lamps.
Consider adding cabinets, drawers, and space organizers to accommodate your child's learning supplies and prevent the area from becoming cluttered.
In bedrooms with minimal space, a dormer addition is an excellent solution to add functional desk space and natural light while also adding gorgeous curb appeal to your home.
4. Entryway Home Office
If space is tight, an entryway home office is a smart, stylish way to add a functional work area near your front door. A slim desk or table with a simple, comfortable chair is the perfect place to take calls, sort through the mail, or answer emails.
5. Workspace in the Attic
Remodeling your attic into a home office space is an ingenious way to turn under-utilized space into a quiet, private office that you will use every day.
Since most attics are non-livable spaces, the first step for your attic remodel is to hire a contractor who can help you solve your space challenges. They will add insulation and real flooring, like wood or laminate, that can support the weight of your home office equipment. You might also consider having them add a window to brighten your workspace.
After your contractor completes the foundation work, you'll need an electrician to install electrical outlets so you can use your laptop, desktop, and other electronics in your office space.
The final step to converting your attic into a home office is to spruce up the area with bright and inviting paint and décor.
6. Stylish Living Room Desk
Your living room is an excellent place to add a table or desk for homeschooling or work—and it is likely already livable, well-lit, and cozy.
Here are some creative ideas to add a small office to your living room:
Switch up your furniture arrangement to make room for a desk.
Add a table behind or against the sofa that can be used as a desk.
Place a desk cater-cornered near the windows.
Add a bookcase to your living room—and utilize the top as a desk space.
7. Spare Room Office for Two
If you and your partner both work from home, converting a guest room into an elegant, comfortable home office is an excellent use of space.
Spare room office space is an excellent option for those who need extra room for storage, filing cabinets, printers, and other bulky office items. Depending on your space needs, you can opt for using one large desk with two chairs or two separate desks.
For those not completely willing to sacrifice your spare room space, consider adding a stylish futon that you can use as an extra workspace during the day but convert into a comfortable bed for guests at night.
4 Tips to Spruce Up Your Office Space
No matter where you decide to add your new home office space, follow these tips to guarantee a pleasant and productive work area:
Make the room comfortable with a supportive chair, cozy ambiance, and inviting décor.
Invest in great lighting—whether it be natural lighting from a dormer window addition or high-quality lamps.
Choose a color palette for your paint job that is bright and inviting.
Add bookshelves, floating wall shelves, and drawers to maximize your space.
Beautiful, Functional Home Remodeling with Action Builders
We understand that adding new office space to your home is exciting— but home additions and remodeling can also be an overwhelming experience for you and your family.
For over 30 years, our caring, competent team at Actions Builders has helped hundreds of satisfied Pittsburgh homeowners expand the home they love with beautiful, functional space.
Learn more about how we can help you convert your home's small, unproductive areas into comfortable, practical office and homeschooling spaces!