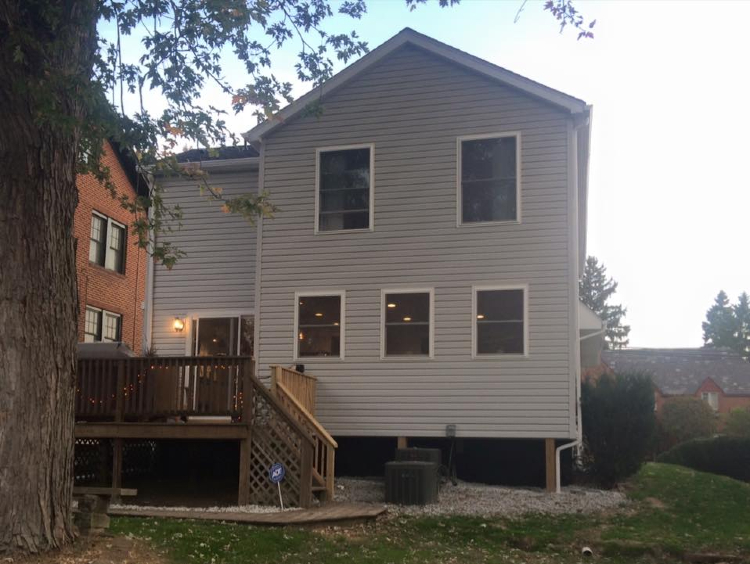 You have two options when investing in a beautiful, spacious home addition: building up or building out. As you consider each option, you might feel intimidated by the home addition process or worried that you will make the wrong choice.
At Action Builders, we understand that you want to make the best decision when adding functional space to the home you love. To help you determine which option is best for your home and family, we've created an informative guide that shares the pros and cons of building horizontally or vertically for your Pittsburgh area home addition.
Pros of Building Up for My Home Addition
Building up, otherwise known as a second-story addition, is a popular choice for home expansion in the Pittsburgh area. Here are some of the pros and cons of this option:
Potentially Cost Less
Building up is sometimes less costly than building out for your new home addition. Since you are building your addition on an existing foundation, your contractor will typically not need to do any foundation work, which can potentially reduce the cost.
More Square Footage
Building up adds valuable space to your home increasing livable space for your growing family. You'll also enjoy increased home value, in case you decide to refinance or sell your home later.
Additional Options for Expansion
There are multiple options available for your Pittsburgh home when you choose to build up. Here are a few excellent choices homeowners have for vertical expansion:
Build a new second-story or third-story to your home. Complete second-story transformations are popular for Cape Cod style homes.
Expand a second-story room over an existing one-story section, like the garage or expanding kitchen and great room.
Have a design-build contractor construct a modular second-story addition off-site and bring the new addition to your house entirely built.
Cons of Building Up for My Home Addition
Temporary Relocation
During the design-build construction process, your contractor will tear through your ceilings and walls to ensure your new room is safe and secure.
Depending on the project's size, scope and timeline, your family may have to move in with relatives or into a rental house while the contractors build your home addition. You might see this as a disadvantage, but this short period of relocation time will pay off in a beautiful, livable space added to the home you love.
Needs or Limitations
Type of Room
The type of room you plan to build can have a significant impact on your home addition. Bedroom or bathroom additions are reliable options for second-story additions, but rooms with multiple HVAC needs, like kitchen additions, are best saved for horizontal expansion.
Zoning Laws
Your county may have specific restrictions about how tall the buildings in your neighborhood can be. Research the zoning laws in your area before deciding to build up for your home addition.
Pros of Building Out for My Home Addition
Building out is an excellent option for homeowners with a large yard or with a need for additional living space. Here is what the horizontal expansion process looks like for your Pittsburgh home:
Stay in Your Home During Construction
When you choose to build out for your home addition, you and your family can stay in your home during construction.
Your design-build contractor will complete most of the work on the foundation, walls, and roof for your new room before cutting into the wall that joins your house with your home addition. This process ensures that your day-to-day life is hardly interrupted by noise and dust during the home addition process.
Add Square Footage
When you build out, you have the opportunity to add valuable space to your home. Adding square footage to your Pittsburgh home has both financial and personal benefits—the value of your home will increase, and you will have a more livable space to enjoy as your family grows.
Cons of Building Out for My Home Addition
Can Be More Costly
Depending on the type of new room you are building and the purpose of the space, you will typically need to lay a new foundation when you build horizontally. Sometimes, foundation work can incur extra costs that can make building out more expensive than building up.
Lose Yard Space
When you build out, you'll usually lose some of the space in your yard to make room for your new home addition. However, if you have a large yard that you rarely use, investing in functional home space like a rear kitchen addition or master bedroom en suite is an excellent choice for your home.
Needs or Limitations
Type of Room
Larger rooms, like living areas or kitchen additions, tend to work best as a first-story home addition. Kitchen additions are an excellent option for building out because of the electrical, plumbing, and HVAC needs in the kitchen space.
Zoning Laws
Your neighborhood may require that your home stays within a certain number of feet from your neighbor's house. These limitations may restrict your options to build out if your home is already close to your neighbor's home or if you have a small yard. Being too close to your property line may also affect some design decisions — like window options.
The Design-Build Company You Can Depend On
Whether you are considering building up or building out for your new home addition, the most important investment you can make is a dependable, experienced home remodeling contractor that can turn your dream house into a reality.
For over 30 years, Action Builders has helped homeowners in the Pittsburgh and Sewickley areas expand their home space with beautiful, structurally-sound home additions.
Learn more about how the design-build construction process can help you save time and money for your beautiful new home addition.