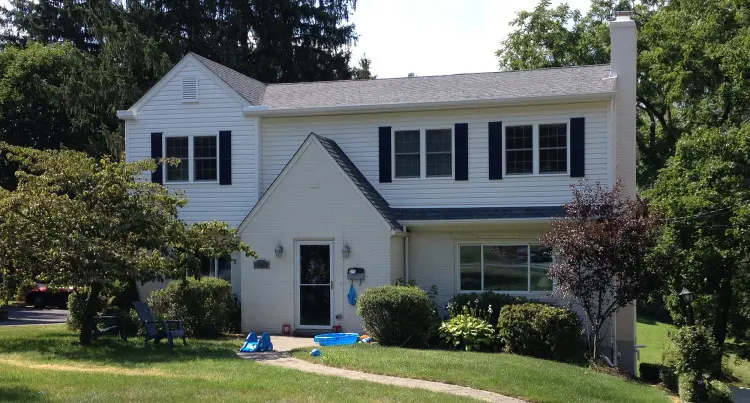 With its symmetrical exterior, centrally-located chimney, and weathered shingles, it's no surprise the Cape Cod-style has been a favorite among New England homeowners for centuries. This charming, classic design dates back to the 1600s; however, World War II veterans popularized it when searching for new houses in the 1940s.
Unfortunately, many homeowners struggle with the modest size and unconventional layout of Cape Cod floor plans. With just a living room, dining room, kitchen, and master bedroom with a few small, sloped-ceiling bedrooms upstairs, it's easy to understand why this traditional style isn't ideal for large families or couples who enjoy entertaining guests.
Thankfully, if you've outgrown your space, you can choose from plenty of trusted home addition solutions to expand the home you love. Use the following list of ideas as inspiration to update and improve your Cape Cod home!
Popular Cape Cod Home Expansion Ideas
1. Rear Addition
Most Cape Cod homes feature a staircase, living room, and dining room near the front door. You'll often find a bedroom and kitchen at the back of the house—the ideal location for a rear addition.
Rear additions typically include a kitchen expansion and master bedroom addition (either on the first floor or on the second story above the new kitchen space). Many homeowners move into the new bedroom and use the old suite as a guest room, family room, or office space. If you're planning to use this new room regularly, consider adding luxury features to the bathroom, like a soaking tub, therapeutic shower, or luxury stone countertops.
Read more about the pros and cons of a first-floor and second-floor master bedroom addition to decide which option is best for your home.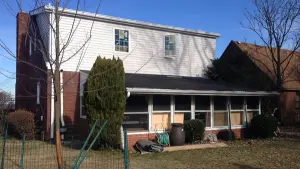 Featured Cape Cod Project
See how we helped one homeowner increase the space of their Cape Cod property with a Remodel On 2 Levels.
See the Project
2. Second-Story Addition
If your home lacks upstairs ventilation, you can simply install proper heating, cooling, and insulation to instantly add more livable space to your Cape Cod house.
However, the best way to expand your upstairs space is with a second-story addition. Your contractor can help you expand existing bedrooms and bathrooms to accommodate your growing family, or they can add a master bedroom addition for guests. Regardless of how you choose to remodel your second floor, the extra room will improve your home's resale value, especially if you live in a neighborhood with primarily second-story homes.
Learn more about how you can double your square footage and improve the functionality of your home with a second-story addition in our Multi-Story Home Additions Guide.
3. Garage Expansion
If your home has an attached garage, adding a room above is an excellent use of space—you can convert it into a master bedroom, office, or playroom. If your garage is detached, consider connecting it to your house. You can use the area in-between to create a mudroom or laundry room to free up more space in your home.
4. Bay Window
Think about building a large bay window if you want to expand your home without an extensive remodeling project. You can use the windowsill for extra countertop space in the kitchen or use an upstairs window as a cozy reading nook.
5. Kitchen Remodel
In the 1600s, kitchens were mostly used for cooking and cleaning. Today, kitchens are used as a home's central hub for socializing and entertaining.
This cultural shift has left many Cape Cod homeowners in need of more kitchen space. Fortunately, a kitchen expansion is an excellent opportunity to update this room with the spacious island, custom cabinetry, and smart home appliances you've been eyeing for the past several years.
Discover these other awesome features that allow you to add style, functionality, and value to your home remodel.
6. Front Porch
If your backyard isn't large enough for a rear addition, consider expanding your front yard with a porch. Front porches are the perfect solution to break up the roofline while maintaining your Cape Cod home's traditional style and character. You can keep your porch open, or you can increase your home's square footage by enclosing it to create a living room, mudroom, or children's play area.
7. Wall Removal
Cape Cod homes typically have walls to separate the house's main rooms, like the kitchen, dining room, and living room. To establish the illusion of extra square footage, knock down these walls to create an open floor plan.
Expand Your Cape Cod Home with Pittsburgh's Expert Design-Builder
Curious to learn how you can implement one or more of these design options to maximize the area in your Cape Cod house? We can help.
For over 30 years, Action Builders has added functional space to Pittsburgh homes with beautiful, structurally-sound additions. We blend sizable expansions with stylish details to add comfort and value to the home you love.Learn more about the design-build home additions process we use to ensure the home you love can accommodate your family for years to come.