North Strabane Township home additions should enhance your life, not displace your family or cause stress for months on end. Action Builders is here to help.
Home Additions in North Strabane Township
Are you feeling a little short on space in your current home? You love your North Strabane Township home, but if it's not serving you or it's feeling outdated or cramped, you need the experts at Action Builders to transform the home you love into a home that also fits your needs with superior home additions services.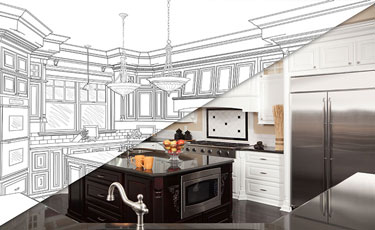 How Our Design-Build Process Works for You
At Action Builders, we are a proud design-build contractor. What does this look like?
Your project comes in two phases:
The design phase
The build phase
We consult with you throughout the project to stay on time and on budget but not without first going through each step of the design process, from ensuring we have all the proper paperwork to choosing the right floor plan and finishings.
Only then do we break ground on your new home addition.
A Home Additions Process Centered Around Your Needs
You deserve a beautiful home addition that fits your budget. You don't want to waste time with careless, unqualified or untrustworthy contractors who string you along or leave you feeling dissatisfied with the overall outcome of your home remodeling project.
What is the Action Builders difference?
You receive a detailed plan before work ever begins.
You can trust that your home addition is impeccably built.
You get constant communication with your home additions contractor.
You are served by a reliable team of managers and crew members.
"Action builders took care of us from the start of our home addition all the way past when it was technically finished. The end result turned out fantastic. Highly recommended."
North Strabane Township's Preferred Home Additions Contractor
North Strabane Township is rooted in history—we even see it in the streets named after founding members of the town like Brehm, Devore, Patterson, Linnwood, Johnson and Munce. It's no wonder that we want to preserve the history of our homes too. That's why Action Builders wants to preserve the best parts of your beloved house, enhancing it to fit your needs.
Your community and your home should be family focused. North Strabane Township Park is all about families and coming together as a community. Action Builders can ensure that your house is too with the home additions project for a living space that matches and fits your lifestyle.
Your home remodeling project shouldn't cause you added stress. Home additions should benefit your life, not displace you for six or more months while you wait for inexperienced or slow-moving contractors to finish the job.
Choose contractors who care—contractors with over 30 years' experience to make it all happen just the way you planned. Contact Action Builders today for a free consultation.
The
Benefits

of Hiring a Design-Build Company
1 | Budget-Friendly Design
Create a beautiful space that works within your budget and lifestyle needs.
2 | Sound Structural Design
Integrate the style of your home in your addition while retaining sound structure.
3 | Streamlined Process
From design drawings through construction, keep everyone on the same page.
4 | Save Time & Money
Avoid redesigning by keeping your designer, engineer, and contractor all in one place.
5 | High-Quality Workmanship
Have the freedom to make changes as needed so your new space fits your lifestyle.
6 | Enjoy It Sooner!
Hand your design straight to a builder to make your dreams come true!
Need more information about home additions and interior remodeling before pursuing a project?
See our Addition and Remodeling Guides to learn:
Why hiring a design-builder is in your best interest
Top projects that solve the biggest problems for Pittsburgh homes
Budget and planning tips to get the best outcome for whole-home renovations or additions