Ultimate Guide to Multi-Story Home Additions
Check out this complete guide on multi-story home additions including the benefits, home styles, kitchen remodeling, and design solutions.
You love your Pittsburgh neighborhood! You've got fantastic neighbors; your kids love their school and their friends. Maybe you've been in your home for a long time, or maybe only a few years. Whatever the case, it's likely that at some point, you may start to feel cramped, or that not all of the spaces function the way you'd like them to, or that there are spaces you wish your home had. You don't want to move, though! The right multi-story home addition and remodel can give you the function, style, and dependable structure that you need.
A successful home addition must:
Have the right design solutions
Facilitate the right flow of traffic
Offer more space (square footage)
Be within your budget
We're going to tell you how you can ensure that your home addition is exactly what you need, no matter where you live in the Pittsburgh area.
What is a Multi-Story Home Addition?
Let's look at two types of additions that you'll want to consider as you think about your home renovation project: multi-story and multi-room.
Multi-story
A multi-story addition is, of course, the addition of a story to your home. There are 4 common types of multi-story additions, and the one you choose will be dependent on your preferences, budget, foundation requirements for adding a second story, and building regulations:
Build from scratch: Tear the roof off your home and build an entire upper level from scratch. If your current home is a ranch, this is the option that you would likely choose.
Remove and replace the roof: With this kind of addition, you would sever your existing roof around its edges, remove it temporarily, and then put it back in place after the new level has been framed in.
Expand: If you have a flat one-story section of your home (such as a garage or porch roof), you can build out an upper level across it.
Modular Designs: This is often the fastest and most cost-efficient way to add a second story to your home: A modular second story addition is designed and built off-site and brought, fully built, to your existing home.
Multi-room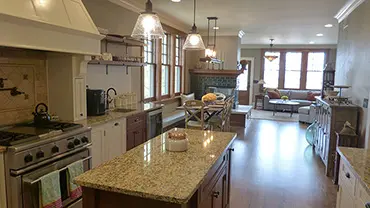 A multi-room addition involves adding more rooms to your home to create more space as your family's needs change: Perhaps you are working from home now and you need a home office. If you have growing children, a family room and a half-bath would accommodate frequent visits with friends and family. Multi-room additions may be on a single story or on multiple stories, depending on your budget, preferences, and the available space.
Advantages of Multi-Story Home Additions for Pittsburgh Homeowners
You are probably asking yourself, "Is a multi-story home addition right for my home?" The answer is, "Yes, absolutely! There are numerous advantages to adding to your existing home. Here are five great ones!
What problems will a multi-story home addition solve for me and my family?
We've mentioned some of the advantages of a multi-story home addition above. If you are a family that includes school-age children, we know how important it is that you remain in your neighborhood so that your children can maintain and nurture the friendships that they've formed with the kids next door. They're settled into a school routine too, and know many of the teachers, and have friends whom they've known for a while now.
A multi-story home addition means that you get to stay in your home in your favorite neighborhood, and your kids can stay in their school. If your parents or other relatives are going to be moving in with you, an addition with modifications for "aging in place" can give them their own space.
Finally, if you know that this is your "forever home," an addition can ensure that it meets all of your needs. Let's tackle some of the specific problems that homeowners are faced with and see how the multi-story home addition will solve them.
Common problems solved by multi-story home additions
A Lack Of Space
You may look around and realize that you and your family are always bumping into each other. Do the rooms in your home often seem cramped because everyone is in them at the same time?
A Lack of Function
Maybe your 
kitchen isn't meeting your needs
. Do you notice that it currently offers a lack of usable space and close quarters? Do you wish that you had a slightly bigger mudroom or family room so that you could make better use of those spaces?
A Need To Modernize
Maybe your master bath has been languishing in the last decade. Or, maybe you don't have a master bath because it wasn't a priority when you purchased your home, but now you realize how much you'd like one.
Getting an addition will help solve these problems and more! An addition will allow you to:
Expand your living space:
As your family grows, you may realize that you need more bedrooms or a bigger playroom.
Expand your entertaining spaces:
As your children get older and have friends over, you may want to think about using an addition to add more room to entertain in your home, whether you want to add a family room, a game room, or a large sunroom.
Give you more functional spaces:
You probably spend a lot of your time in the kitchen, cooking, eating, catching up at the end of the day, and doing homework. An addition can help give you more room in your kitchen for all of the varied ways that families use their kitchens today: Several people can be in the kitchen together, cooking, eating, working, and there will be enough room for everyone. Adding a study will give you a place to work from home where it's quiet. An expanded mudroom gives everyone a place to take off and store gear during our snowy winters without tracking mud, dirt, and melted snow through the rest of the house.
Update spaces:
If you add a playroom or a family room, maybe you want to add a nearby half-bath. An addition can also give you the large master suite you've always wanted, complete with a master bathroom.
What styles of Pittsburgh homes benefit from a multi-story home addition?
As you think about putting an addition on your home, you may be asking whether an addition will complement your home's style. Definitely! All Pittsburgh home styles can be enhanced by a home addition. Here are a few common home styles we see often that really benefit from a multi-story home addition.
Cottage
Cottages are typically two stories tall and two or three bays wide. The roof has either a front- or side-facing gable. It may be a mansard with a small centered gable, or for homes with an L-shaped footprint, a cross-gable.
How an addition can help:
A cottage may have less usable upstairs space and a smaller footprint because of its sloped ceilings. An addition allows you to build out the upstairs to give you the room that you need!
Ranch
Also known as "American Ranch," these are single-story homes that are either rectangular or L- or U-shaped. The roof is either flat or a broad, low pitched gable roof.
How an addition can help:
Ranches are great candidates for multi-story additions! You can design the second story that meets all of your needs and wants. You'll need to pay attention to your home's footprint, of course, but you'll still have a lot of freedom to create the perfect addition.
American Four-Square
Four-square homes are also referred to as "Prairie Box" homes. They have a simple box shape, and are two-and-a-half stories high. The roof is pyramid-shaped, low hipped, and has deep overhangs. Each floor typically has four rooms.
How an addition can help:
The four-square's box shape lends itself to additions. Maybe the four-rooms-per-floor layout won't work for your growing family, and you need to build up and out. You can also consider turning the half-story into a full story to gain more living or storage space.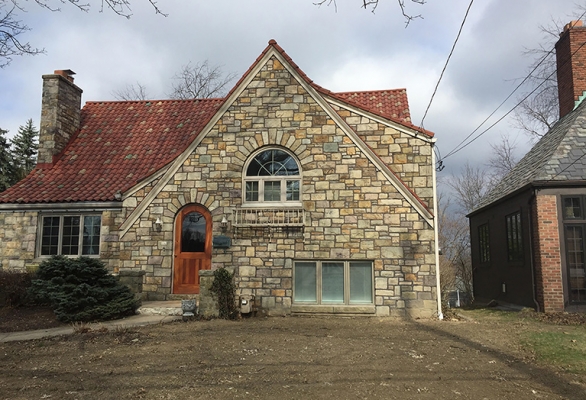 Tudor Revival
Tudor homes are known for their distinctive style, which explains why they are also referred to as "Storybook" homes: They are usually two stories and have arches or steep slopes for added visual interest. Their roofs are steeply pitched and have front-facing gables.
How an addition can help:
While you want to retain your Tudor's distinct style, you want to make sure that you're maximizing your living space, which might be hindered by the steep slope of your roof. An addition can ensure that your Tudor home remains as elegant as ever while giving you the additional living space that you need.
Second Empire
Also known as "Mansard Houses," because of their mansard roofs, these homes are usually, but not always, tall and narrow. Second empire homes can be found all throughout Pittsburgh.
How an addition can help:
Your home's existing configuration may not offer you enough living space, particularly if it is very narrow. You and your family may constantly be bumping into each other as you move from room to room. An addition can give you the extra space that you need.
Historic homes
Historic homes (like those in Sewickley) can be renovated! This may involve opening up walls to create larger living spaces while maintaining the home's distinctive architectural features. You may also want to gut all or most of your home's interior in order to update it and reconfigure the space so that it works for you, but keep and reinstall distinctive fixtures. Pocket doors can also be used to temporarily create flow between rooms, enlarging them. It's also possible to reconfigure a kitchen to make better use of the space without disrupting the floorplan. If there is a butler's pantry or servant's quarters, these can be opened up to make more space in the kitchen, whether for a table and chairs, or for more counter and storage space.
What is the design-build process for a multi-story home addition?
As you consider a multi-story home addition, you're probably wondering about the specifics of the design-build process. You may also be wondering whether you should choose a design-build contractor or an architect.
Benefits of working with a design-build contractor
First, let's talk about the benefits of choosing a design-build contractor rather than a residential architect. Working with a design-build contractor instead of separately hiring an architect and a builder means that:
Your renovation will be completed quicker
The process will be more thorough
The project will be less expensive
You don't need to coordinate among multiple parties when you work with a design-build contractor. They handle every aspect of your home renovation from start to finish. Because of this, work happens faster, and is more thorough—nothing is missed or overlooked—and you aren't paying multiple people for their expertise, time, and labor.
You also avoid the "triangle of tension" that can exist between the homeowner, the architect, and the builder. The more people who are involved in the process, the more coordination has to happen, and communication among all parties is key. This may not always happen, which causes stress for everyone involved. The project often runs longer, and that means that the homeowner ends up incurring more costs.
Step 1: Consultation
A member of our design-build team will walk through your home with you to see your space and hear your thoughts about where an addition should go. You can and should share your wants and needs for the particular space with us. We will use this information to put together an estimate for your project so that you can decide whether to proceed with the renovation and then evaluate your personal finances or speak with your bank about financing options.
Step 2: Design – Quote
Once you decide to go ahead with the project, we will create a design agreement that gives us the time to research the existing conditions of your home and draw floor plans. There are usually a couple rounds of drawings. Then we will complete a Scope of Work (SOW) with the actual costs for your renovation.
Step 3: Choose Finishes
After the SOW is approved and a contract is signed and accompanied by a deposit, we will put you on our schedule (typically, we schedule 3–4 months out). Then, permit drawings are completed and engineering is stamped. We will then apply for the permit and work directly with your municipality on any revisions that they require.
While we do that, you should decide on as many finishes as possible after your layout is finalized. The project will move faster and smoother if all of these (including fixtures, flooring, and cabinets) are selected before the building begins.
Step 4: Build
Once we have completed all of our current projects and have all of the necessary permits for yours in hand, we'll start building.
What are design options for a multi-story home addition?
Perhaps you know that you want an addition, and you have a general idea of how you would like the spaces to be used, but you aren't sure about the specifics. Don't worry! We'd like to share with you some ideas for multi-story home addition designs to help get you started.
Here are a few aspects of additions that you'll want to keep in mind:
Aesthetics: How the new addition looks and how it blends into both the interior and exterior of your home
Function: How the spaces in your addition function
Flow: How the addition flows naturally into the rest of your home, giving it the appearance of always having been there
Increasing your home's square footage is a wonderful benefit to you and your family, whether that means more room for the kids and their friends to play; more room for you to do work or relax; more room for you once your children have moved out; more room for guests to visit, or room for parents to move into so that your family can be closer together.
Consulting with a builder is crucial. They will research your home and draw floor plans as part of the design process. You'll be able to visualize your new space. They will be able to determine whether your home's structure and foundation can handle the additional weight. They can also help you make aesthetic choices about the appearance of your addition, and how that blends into or complements the style of your home. You'll want to pay attention to proportions and scale. You don't want a new addition to look like it was attached to your home without any thought or consideration for your home's original proportions and scale.
Common Rooms to Add or Expand
Add a dormer to your attic:
This will expand your attic, giving you more space (and light), and add curb appeal. If you have a cottage or a Tudor revival, this would be one way to add more space with your sloped roof too.
Put a room over your garage:
You could even turn this space into an apartment for relatives or visiting guests, or give the kids their own entertaining space away from the adults.
Expand your kitchen or your bathroom:
Nearly everybody wants a larger kitchen or bathroom or both. If you don't have a master bath, an addition is a great time to add one. Maybe your Second Empire house is too narrow, and you'd like to build an addition to give yourself a bigger kitchen.
Turn your front or back porch (or patio) into a sunroom:
Everyone loves being outside on warm summer days and cool summer nights. The bugs, heat, and humidity are less appreciated. Enclosing (and insulating) your porch or patio and turning it into a sunroom gives you extra space that you can enjoy year-round, no matter the weather! This is an especially great option if you are living in a four-square or a Tudor home or other home whose front exterior is particularly striking, and you have a porch (or extra space) in the back. You can add the addition in the back, and not distract or detract from your home's curb appeal.
Other ideas:
Turn an attached garage into another bedroom or entertaining space
Expand your laundry room
Add a mudroom
The
Benefits

of Hiring a Design-Build Company
1 | Budget-Friendly Design
Create a beautiful space that works within your budget and lifestyle needs.
2 | Sound Structural Design
Integrate the style of your home in your addition while retaining sound structure.
3 | Streamlined Process
From design drawings through construction, keep everyone on the same page.
4 | Save Time & Money
Avoid redesigning by keeping your designer, engineer, and contractor all in one place.
5 | High-Quality Workmanship
Have the freedom to make changes as needed so your new space fits your lifestyle.
6 | Enjoy It Sooner!
Hand your design straight to a builder to make your dreams come true!
Common Kitchen Renovation Solutions for Homes
The kitchen is easily considered the heart of the home by many homeowners. It's where everyone usually meets in the morning and at night. It's where the kids do their homework, where everyone sits on game night, and where the best home cooked memories are made.
All of those reasons make it understandable why you've looked around your current kitchen and wanted a little something more. Maybe it's more space, a beautiful center island, or cabinets that look like they aren't from the 80s.
Whatever it is, Action Builders is here with the perfect kitchen renovation solutions to bring your kitchen back to life.
Problems with the Kitchen in Your Home
Even the smallest things begin to bother someone at some point. When it comes to your kitchen, there are probably small things that weren't a problem in the beginning but are now screaming for you to find kitchen remodeling services that can fix the issue quickly. These issues can include:
Not enough space for everyone to move freely
Limited counter space for items
A wall blocking the view into other rooms
An awkward floor plan that has you banging your hip on the counters every day
A kitchen that is just too small
We've seen it all here at Action Builders, and it's common to feel like that. Now is the time to do something about it with our kitchen addition solutions.
Common Renovations for Homes
For a successful kitchen remodeling plan, there are many things you need to consider. That's where the skilled team members from Action Builders can come in and help you identify the things you need fixed.
But once your kitchen remodeling is done, what about the rest of your home? Homeowners like yourself are choosing these home addition options after looking at the design and layout of their homes and wanting more from those areas as well:
Great room addition
Extended cabinets to the ceiling
A brighter and more open floor plan in general with a beachy or cottage feel
A back porch for entertaining and resting
No matter the kind of remodeling service you're looking for, Action Builders has you covered.
Increase the size of your home and love where you live. Regain the space in your home with whole home additions and renovations that leave your Pittsburgh home looking beautiful and functional.
Turn the inside of your home into a stunning design piece with interior home remodeling services that will leave you in love with your home.
Make your kitchen the heart of your home by designing a beautiful, efficient space for cooking, entertaining and conversation.
Upgrade your bedroom and bathroom into a space that makes you happy.  
What does it cost to design and build a multi-story home addition?
If you're considering a multi-story home renovation, you're undoubtedly wondering about home addition cost. The answer, of course, depends on what your addition will be used for.
Here are estimates for the most common types of additions:
Bathroom: Up to $20,000
Kitchen: Between $30,000–$70,000 for a completely redesigned kitchen that meets all of your needs
Sunroom: Between $25,000–$70,000; cost is dependent, in part, on whether foundation exists underneath it and what amenities it already contains
Whole home remodel: $150,000–$300,000 can give your home the love it deserves and give you your beloved home, updated
The cost will be impacted by a number of factors, including:
Size of addition
Type of foundation
Insulation
Siding
Number of windows
Roof
Electrical/HVAC
Tearing down existing walls
Permits
According to the 2020 Cost Vs. Value Report for Pittsburgh, a midrange master suite addition can cost just over $131,000. If you have been saving for years for this project and have more to spend, you could spend about $272,000. The great news is two-fold: These numbers are close to the national averages for these projects, and, you will get most of that money back if you sell your home because of the value that a master suite adds to your home.
There are also a number of tax credits and deductions that you can take advantage of after you complete your addition, including an Improvement Loan Deduction, which you should keep in mind if you are financing your project, and the Energy Efficiency tax credit. Keep track of all your bills and receipts for any renovation project so that you don't have to hunt for them on April 14th, and instead, get the deductions and credits to which you are entitled.
Financing options
There are several ways that you can finance your addition, and each has pros and cons.
Cash
The most ideal and simple way of financing a home addition is cash.
Construction Loan
A construction loan gives two appraised values for your home, the existing value and the value of what the home will be with the completed addition. The financer bases the amount you can borrow off of the proposed future value of the home and subtracts what is still owed. At completion points, they send an inspector to determine the work is completed before the contractor is paid.
Home Equity Loan
Home equity loans are the most similar to your initial mortgage. You are borrowing off of the equity built up in your property, essentially using your home as collateral for the loan. You receive a single loan amount that you make monthly payments on over its lifetime — the same as a mortgage.
Home Equity Line of Credit
A home equity line of credit can often be one of the cheaper options because it has fewer fees and closing costs associated with it. The amount you can finance depends on the equity you have in your home. You can finance a portion which goes into an account that you pull from over a certain length of time, and you pay the contractor directly.
Refinancing
Another viable option is refinancing. It can easily allow you to "cash out" with enough funds for home renovations without increasing your monthly mortgage payment, depending on how large your home remodel project is.
Making your money work for you
Keep in mind, though, that you don't want to put all of your money in one place. Multi-room renovations help create a cohesive design flow to your home, and you won't lose the value of your beautifully designed kitchen due to an outdated living space. On the other hand, here are some projects that will add value to your Pittsburgh home:
Adding a deck
Adding a bathroom
Renovating your basement or attic
Updating your siding
Planning for a smooth renovation
We have some tips for multi-story home addition planning to make the process stress-free for you and your family.
What to consider before starting
Before you begin your renovation, make sure that:
You are familiar with local laws that may impact your ability to create the addition that you want
Your finances are in order, and you are able to afford the entire cost of the project, plus have money for any unanticipated expenses
You have enough property to support the addition that you want; think about new entries/exits as well as the new traffic patterns in and around your home
Your home remains similar to others within the neighborhood; resale value could be adversely affected if your renovated home deviates too much from the neighborhood's "norm"
Have a clear understanding of the process; your contractor can help you understand scheduling, timelines, your responsibilities, and explain the work that they will be doing
Have a clear idea of what you want; it's your addition, and you need to be happy with it
Prepare yourself for the upheaval. An addition can sometimes require a tremendous amount of your house to be sacrificed as active workspace. If you are going to be staying at home, keep in mind that you may not be able to use certain rooms for weeks or months, and that there will be a considerable amount of noise in your home during daylight hours. Materials will be brought into your home and will take up space, and the process means an excess of dust and debris will be present too.
How to live during – Home or Away
If you stay
It can be hard for children to adjust to new routines, so you may opt to stay in your home during the renovation. You may also need to remain at home because there are no convenient other options.
Have your contractor set up at least one sealed-off, construction-free zone
Set ground rules on crew access so you know when the house is your own and when the workers take over
Pack up clothing and bedding that you won't be using in space-saving, vacuum-sealed bags to keep them clean and dust-free
Cover ducts with plastic
During the day, turn off your air conditioning or heat to stop air from circulating through the house (and bringing dust and debris with it)
Require that the crew commit to daily clean-ups
If you go
Determine new commuting routes (to work, school, doctors' offices, etc.)
Decide whether to have your mail held or forwarded
Determine whether you can put some services, like cable, on hold
Visit to check on the progress
Communication – Working with a Contractor
The biggest key to a successful renovation is communicating regularly with your contractor. As we noted, they can explain the entire process to you and answer any questions that you have. They can offer you their expertise and suggestions and point out any problems or issues that they foresee before the renovation starts, but they are going to rely on you to be open and honest about what you want and need for your addition, as well as any concerns that you have.
You want to hire a contractor who will listen to you and problem-solve with you. A lack of communication is likely to lead to an addition that you aren't happy with and wasted money. Here are four suggestions for ensuring great communication with your contractor:
Suggestion #1: Explain each room's intended purpose.
This can help your contractor help you. You can say that you want a larger kitchen, but it's also useful to explain who will be using the kitchen. For example, if you host a lot of dinner parties, you might need more room for seating and storage for additional place settings and serving platters than if you and your family of 4 are typically the only ones who use the kitchen on a regular basis.
Suggestion #2: Have pictures to show your contractor.
It's useful if you can explain to your contractor what you want and show them pictures, whether from sites like Pinterest or Houzz, or photos that you've taken. Put your ideas in writing too. That will help you and your contractor during the design process.
Suggestion #3: Keep a project journal.
Whether handwritten or typed, this is a great place to record details of conversations with your contractor so that you don't forget them. You can jot (or type) questions that you want to ask so that you don't forget those either. You can also record the project timeline and keep track of when tasks have been completed.
Suggestion #4: Tell your contractor what you can afford.
Your contractor can help you work within your budget, and can also tell you what can realistically be achieved with it.
Safety
The health and safety of your family is paramount! Renovations mean busy worksites with potential hazards. Here are some tips to keep your loved ones and yourself safe during a home renovation:
Tip #1: Relocate
If you can, it's best to relocate during a renovation, whether that means moving somewhere else or taking a vacation. The crew will be able to work faster, and you and your family won't be disturbed and inconvenienced by the activity.
Tip #2: Create a No-Go Zone
Designate the zone where the workers are as a "No-Go Zone," and keep children, pets, friends, and family from going into it. Put up physical barriers and signs to keep people out. Cordon it off, and set a good example and stay out of it yourself.
Tip #3: Talk with your children about the renovation
If you are building an addition in part so that your children can stay in their neighborhood and schools, that's great! Your children are going to be interested in and excited by what's happening at home, and naturally curious. It's important to explain to them that they need to stay out of the No-Go Zone, and also that they shouldn't touch any of the equipment or materials. You may even ask your contractor to talk to them. Make sure that the tools are put away when they are not being used.
Tip #4: Determine new routes around the house
Decide how other areas of the house will be used while others are under construction. What will the new indoor traffic pattern typically look like? Make sure that you can still easily and safely enter and exit all areas of your home. Do the new entrances and exits have good lighting (inside and out), railings, and safe walkways? Will your children and pets be safe using them?
Tip #5: Make use of external storage
While contractors are careful, accidents can happen. You should move any important/valuable items out of the path of construction. Depending on the work that is being done, you may be able to store them elsewhere in your home. For considerations of space and safely moving around your home, it may be best to store certain items off-site in a secure location.
Hiring the right multi-story home additions contractor
We've told you that communication between you and your contractor is essential to helping your project go smoothly and the way that you want. So, you're probably wondering how you find the right contractor for your project. We're going to give you some tips to make the process easier!
Value of a Design-Build Contractor
First, we're going to talk about the value of working with a design-build contractor:
A design-build contractor does all of the work on an addition from start to finish, from design to construction. They will:
Work with your budget in mind: Unlike an architect, a design-builder will use your budget as the starting point for all designs.
Integrate structural design: Design-builders work with multiple designers to give you a flush and cohesive design for your home.
Have a streamlined working process: Because everything is done in-house, everyone is always on the same page and in constant communication with each other. Potential problems are addressed before they become actual problems.
Cost less: When you hire a design-builder, you are hiring one company, and paying one fee, rather than paying separate fees to an architect and a builder.
Give you amazing quality work: The design and structural team work together, so your design will work well with the existing home structure and also with the construction crew's needs.
Offer a faster project timeline: Again, because all of the work is being done in-house by the same company, work can get completed faster and smoother because they only need to communicate with the homeowner, not additional parties.
Questions to Ask Before Hiring
Here are some of the most important questions to ask before hiring a contractor for your project:
How long have you been in business?
You want a contractor who has been in business long enough to know the area; to have a portfolio that you can look through; as well as references that you can contact; and reviews that you can read online.
How many projects like mine have you completed?
You want to find a contractor who is familiar and comfortable with projects like yours.
How does your company handle warranty complaints?
You need to understand exactly what warranty the company is offering you, what it includes, and excludes, and how the company will work with you in the event that there is a problem after the work is completed. A contractor can guarantee against both defective materials and workmanship problems. Your written guarantee should include clauses that state what the contractor will cover and for how long.
Are you properly insured? Does your insurance cover property damage and personal liability?
A reputable contractor will be properly insured for property damage and personal liability to protect workers and any damage done to your property. (They are required by law to be insured.) They should also show you all their licenses and certificates.
How many projects do you have lined up before mine? How long before you can start on my project?
These two questions together can give you a sense of the contractor's schedule—how much work they've already taken on, and when they expect to complete it and start your project.
What to look for in a design-build contractor
Beyond asking those important questions, what else should you look for in a design-build contractor?
Consultation: A contractor should offer you a free consultation to come to your property to look at the space, talk about your needs and wants, and then prepare an estimate.
Communication: As we stated above, you and your contractor should be able to openly and honestly communicate with each other. Contractors know that moving forward with an addition is a large undertaking, and won't rush you. Reputable contractors will also answer all of your questions and concerns.
Craftsmanship & Equipment: Checking out the reviews on the contractor's website, Google, or Yelp should give you a sense of the quality and craftsmanship of their work; their equipment should also be high-quality and well-maintained. You can also check Houzz. However, make sure to chat with references, too.
To Sum Up
So now you know the details of what a multi-story addition involves and what kind of benefits it offers you as a homeowner—no matter what the style of your home is. The most important of them all is that a multi-story addition means that you and your family can stay put and continue to make memories in your house for years to come. An addition can solve problems including a lack of space or a space that no longer functions as you'd hoped, and will allow you to update parts of your home.
We've shared with you some of the most common types of additions and typical costs, but can't wait to talk to you about your specific needs. Take a look at Action Builders additions and Home Remodeling Services and schedule a consultation with us today!
Need more information about home additions and interior remodeling before pursuing a project?
See our Addition and Remodeling Guides to learn:
Why hiring a design-builder is in your best interest
Top projects that solve the biggest problems for Pittsburgh homes
Budget and planning tips to get the best outcome for whole-home renovations or additions